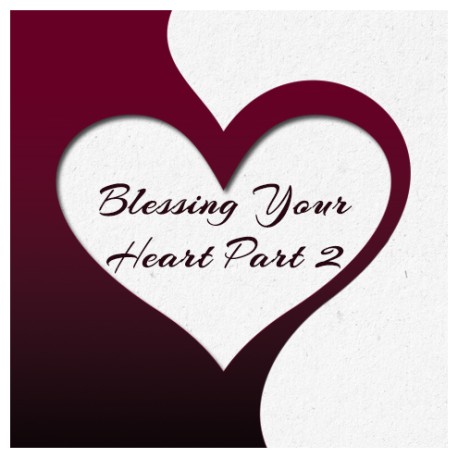  
3. Blessing Your Heart Part 2 Seminar
You have four hearts.  This seminar explores your spiritual heart.  You need to know what it does and how you can nurture it.

Please see the "More Info" section for logistics and seminar details.
More info
We have an emotional heart, a spiritual heart, a cognitive heart and a physical heart. 

Blessing Your Heart Part 1 dealt with your emotional heart.  You have to learn how to trust to be able to sustain intimacy in love. 

This seminar will be about your spiritual heart.  What is your spirit supposed to do, and what does your spiritual heart do?  

You have learned to nurture your spirit.  How do you nurture the spiritual capacity of your heart, to better serve your personal walk and your Kingdom calling. 

AND what is the cause and what is the effect?  Does your spirit act on your spiritual heart or does your spiritual heart inform your spirit?

Some logistics:
We will break for lunch, scatter and go off-site into the community to eat.
There are eateries within walking distance.  No outside food or beverage on the property.
All children are welcome at no charge; please let us know they are coming so we can reserve them a seat.  There is a message box on the check-out page, where you can leave their names.  There is no child care, but I am not disturbed by children playing quietly around the periphery of the venue.
The venue will be set up theater style, meaning no tables.  You may take notes if you wish, including using a tablet or other silent device, but NOT on a laptop, since the keyboard noise is quite distracting to those who are having a deep encounter with God.
We do plan on recording the event, and assuming all goes well, will be releasing the album a bit later.
You will not be permitted to record on your own devices during the event.
If the event is about to sell out, we will post it on MeWe.
If we do not sell out, we will close registration 1:00 p.m. Eastern time, June 19, 2024.
No walk-up registrations will be allowed.
Please do not take pictures of the event, other than with the knowledge and permission of the person in the picture – as in a selfie with a friend, which IS permitted – but not a picture of the gathering.


Seminar Details:
Date and Time
Saturday, June 22, 2024
9:00 a.m. to 5:00 p.m.


Location:
Nationwide Hotel and Conference Center
100 Green Meadows Drive
Lewis Center, Ohio 43035
Meeting Space:  Hickory 1 in the Virginia Building, directly across from the hotel.  1st floor.

Cost:
$100 per adult
Children 18 or under are free.  Please register children on the payment page during checkout.
Additional adults:  Please also include full names and emails of additional adults included in a single order in the payment page message box.

Registration Cutoff:
1:00 p.m. Eastern time, June 19, 2024.
No walk-up registrations will be allowed.