The Broken, Beautiful Restaurant
13
Liked
Posted on:
June 27th 2019
My truck needed a new oil pressure sensor and I couldn't pick it up at the end of the day, yesterday. This morning I got an Uber ride with an Exhorter, originally from Charleston.
As such, he had an abundance of observations about the difference between Charleston and the Upcountry. Central to his infomercial was a colorful critique of the Spartanburg haute cuisine.
I smiled as I listened to his rant, thinking of the difference values make, since I was on my way to breakfast after picking up the truck.
I go to Papa's periodically. It is surely a Servant restaurant. Been there for about 30 years. Downtown. Frozen in time. Not cute retro like some of the redeveloped section of Main Street. Just old.
Food is good. A broad selection. Nothing really special. The coffee is really not special. Home fries fill the plate. The Trash Can Omelet is characteristic of their interesting menu.
It is the culture that draws me. I go there when I am losing faith in humanity.
At least half of the staff have broken bodies. All seem to have broken souls. But someone was willing to give them a job there anyway, and they have cobbled together an awkwardly functional team.
It is the most integrated place I have seen in Spartanburg. The staff and the clients are broadly color blind, unlike other places where the unspoken racism is expressed in body language.
And most of the people who come are chewed up in obvious ways.
I go there because of the fact that the people who frequent Papa's have learned that their war is against life, not their neighbor. Almost all are battered. All are fighting. But they are not fighting each other. And they make room for other battered people, carefully not bumping their bruises.
It isn't a very loving place. Few people have any resources to spare. But it is a safe place and conflict is not the theme.
When I picked up the truck, the repair was done right, was cheap and the paperwork was simple and clean. I was at the counter less than three minutes. In that time, the owner went out of his way to bash some other mechanics in town.
He is still at war with people. And even though I was not the target of his anger, I hurried to leave his war zone and wandered over to Papa's.
My waitress was new to me. Obviously the victim of a hard life. She offered me no love to go with the food. And no shrapnel either.
I left refreshed, able to enter the war zone again, and deal with all the people who are still at war with all the people.
Some days, I just need Papa's.
Haute cuisine for my tired soul.
Arthur Burk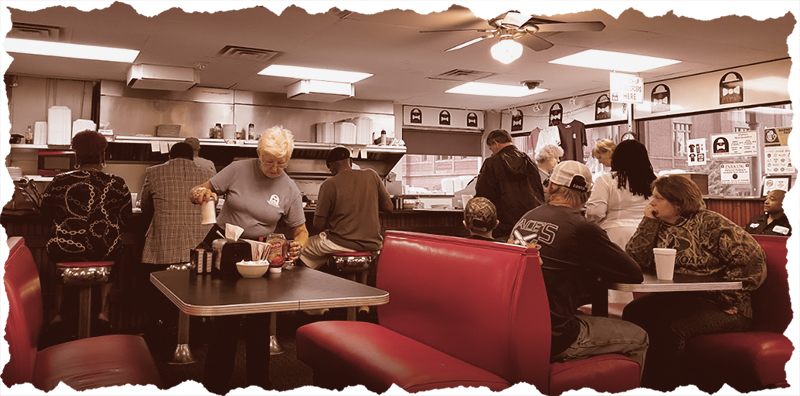 Comments
Yes and Amen

By : Maritia Blundell

On

March 7th 2021

Just read in March 2021 , Thanks you for a beautiful way to see America , one Diner at a time . Hence why , I like many Food Network shows . People still need to be touched , celebrated , and honored just as they are on this side of eternity , all LOVED . .
I've been gearing for a Spiritual Battle for awhile , to bring HIS Peace to all just like you mentioned . Looking into the EYES of others and speaking HOPE sometimes with only eye contact , bringing His Presence even when we feel weak . AMEN and AMEN

You Discovered My Home away from home from my College years

By : Daisy Burgan

On

August 23rd 2019

Papa's was our hang out of choice in college. My home away from home.
Glad to see this beautiful place appreciated and memorialized in a beautiful way.

Replied by : Arthur Burk Hi Daisy. Haven't heard from you for a while. Delighted to see your name pop up. Are you still in the area?

Papa's

By : Cyndi Shanklin

On

August 7th 2019

Sometimes the most ministering time is that spent among non-glossed, un-photoshopped people....

Replied by : Arthur Burk I so agree.

The Little Baptist Church

By : Julie

On

July 30th 2019

Wow! This is so what I experienced last year! We were in a rural area in the south - not where I wanted to be but nonetheless I was there. I struggled with the racism, segregation and other things I won't go into. Until the Lord led us to the little Baptist Church in the teeny tiny town next to us (population- 214). It was not exactly like Papa's. There was the grandfatherly former principal who would give me a bear hug every week, the pastor who though being Baptist was clearly filled with Holy Spirit and prophetic as they come - though I doubt he'd describe it that way - and his sweet wife who sent me Bible verses every week by text. But other than those few exceptions, the mode of the church was definitely Male Servant. And given our circumstances, it was just what we needed at the time. Occasionally I got impatient with the seemingly lack of interest in developing a deeper relationship with us but honestly, it was strangely healing to come each week and sit in that place and just be - with all the rest of the rural folk just being as well. They had their routine and the assumption was we knew it already (we didn't) but we never felt disapproval for missing our cues. There was much grace, though not the flowery overt kind. They gave what they had without explanation nor excuse and took us in with polite kindness despite our lack of cooperation with the program. (For example, being so small, when they announced the "new members class" we knew it was for us. When we didn't sign up, they quietly canceled the upcoming "new members" class. No conversation, questions nor pressure. And from that time on we were known as "active attenders".) The church overall may not have been overly relational but they were definitely not at war with people. I often marveled at how therapeutic our time in that little, rural, unassuming Baptist church were. It was definitely our much needed "safe refuge" at the time. And now I know why! Thank you for this.

Aha!

By : Cynthia Harris

On

July 24th 2019

I think I realized today why this topic is so intriguing to me. You have encouraged us to explore the genders of our spirit portions, and, even though I am a woman & enjoy my femininity, my Servant portion is male. And I AM Servant RG, which means that basically, I am Male Servant! So the description of what that might look like when it comes in the form of an institution is fascinating.
A number of other Servants have posted here as well - I love Gordon's take on Servanthood, "A safe refuge in a place of brokenness, where broken people are peacefully coexisting...and one can leave refreshed to re-enter the war zone. I wonder what it would be like if a life-spring were to begin to seep out there. "
Perhaps, as sanctified Servants, male or female, we can enjoy the "free money on the table," being a safe refuge, but now also bring in that extra God-element of life-giving, and see what the Kingdom chemistry produces. Thanks again for this insight!

Replied by : Arthur Burk Well said.

Learning curve

By : Cynthia Harris

On

July 19th 2019

Yesterday I went to a Food Lion in a different part of town, one that I'd never been to before. My first feelings as I worked my way through the store tended toward annoyance. Mainly because there was a notable absence of the kind of help I usually get at MY Food Lion - employees helping you find something, helping to reach something on a high shelf, asking what kind of bags I want (paper! always!), and absent also was the cheerful greeting I was accustomed to in each department.
By the time I was halfway through checking out, I had come to realize that this entire grocery store exactly duplicates everything that you describe about Papa's. It's a Male Servant grocery store! Realizing that then reframed my whole experience, and I began to enjoy it, as I saw piece by piece lining up with the description in your blog.
As I wheeled my full cart out to the hot parking lot, one of the employees, who had just gone off duty (and exactly as you describe - a broken soul in a broken body, but at peace with the customers and fellow workers) came up to help me load groceries into my car. He didn't feel the need to chat, just helped, smiled briefly, and then wheeled the cart back, before getting into his own car to drive home.
My incipiently grumpy grocery trip shifted into a new cultural experience - the Male Servant business. Learning from Papa's!

As I worked my way through the store, and finally at the checkout, I realized that this store EXACTLY expresses what you describe in this blog. So, obviously a Male Servant store.

Peace In War

By : Elouise Van der Merwe

On

July 15th 2019

I'm from a segregated social environment, groomed in it's intense fear and violence. It, that looming violence, those shifting targets of perfection, that conditional love, taught me to egg shell SURF, never you mind tread! I've always kept a bit of it, that nagging 'please, don't yell, I don't want to make a mistake' fear of man, that can be so stifling, so compromising.
Since reading this blog the first time on, 27 June, this has been the third day (15July) that I didn't wake-up with a ton of that "please don't yell" bricks on my head. I have found freedom. It wasn't just my junk, it was generational junk, that I'm free from. And I'm so very grateful. Rebekah Scott says, "God doesn't bring you there to leave you there", that is the truth. The course " Pursuing Awe" was instrumental in my freedom.
So I can walk on today, in a new boldness.
I've my designated ways to prepare for the King. I'll check in with you next year July to see what's cooking. You are real flesh and blood people, I appreciate you.
I bless your methods and your madness.
I bless the way the King works through you.
It is good! It is good! It is good!
Live creatively, friends!

Long Live Papa's!

By : Cynthia Harris

On

July 10th 2019

This is so interesting to me. C.S. Lewis once commented that he saw a difference between the genders thusly (Screwtape Letters):
"A woman means by Unselfishness chiefly taking trouble for others; a man means not giving trouble to others...thus, while the woman thinks of doing good offices and the man of respecting other people's rights, each gender, without any obvious unreason, can and does regard the other as radically selfish."
So Papa's is a safe place where anyone of any history or condition can come & be unhindered, enjoy their coffee without shrapnel being flung at them, and then leave refreshed.
As a relative newbie to redemptive gifts of institutions, I would guess that Papa's is Male Servant? I'm guessing that a Female Servant place might be more proactive in helping or loving, rather than just providing the safe place to BE.
And long live Papa's!

Replied by : Arthur Burk Good catch, adding gender to the store. Yes, absolutely it is not a female restaurant. Well done.

Love

By : Mira Magee

On

July 7th 2019

On a good day, I would like to go in there and love on them a bit and hope they would receive. Nice read.

Thankful

By : Gernot

On

July 5th 2019

A servant says thank you for sharing. I have a clear picture of how it ist there. And like the servant portion. And glad, Papa and Jesus have squeezed me between a prophet and a merci, so I can learn to be clear and also getting everthing into flow. And maybe give the people a glimpse of the love and the excellence, Jesus shows me.

greeting cards

By : Debra Moore

On

June 29th 2019

Excellent. Just what I needed to hear. Sometimes I am at war with the culture of the times. I have been learning how to walk through the insanity of political correct liberalism without getting my hackles up. This helps.

Broken Beautiful Restaurant

By : PL Moore

On

June 29th 2019

My first blog post from SLG. We moved to the San Antonio area a year ago this month. What a struggle it's been! Finding our little refuge in the storms of war here in Schertz at Abel's is awesome.
Thank you for reminding us that we all need shelters and Father God is happy to show us when we ask.

Broken Potential

By : Gordon Haggerty

On

June 28th 2019

Thanks Arthur...again.
A safe refuge in a place of brokenness, where broken people are peacefully coexisting...and one can leave refreshed to re-enter the war zone.
I wonder what it would be like if a life-spring were to begin to seep out there. What hidden resources may be lurking among those broken souls, waiting for a catalyst to break open a life-stream of encouragement and healing. I wonder what Elisha's widow would see as a resource if this were her house?
Thanks...again.

the snapshot of your morning

By : Carrie Murray

On

June 28th 2019

Breathing in and observing what is...even tho it is not perfect..can still be enough. Thank you Arthur.

Beautifully

By : Janis Leal

On

June 28th 2019

"But it is a safe place and conflict is not the theme." Quietly, poignantly resounding. And also good food, like the rest of these touching words, all combined in essence with the photo details ("torn" photo border, tint, positions of the people individually and as a whole that express what your spirit captured through the photo, etc) I'm drawn to linger over for the infusing fragrance from a magnificent spirit soaring over his soul, feeding others even when needing to be fed. Thoroughly beautiful, beautifully. May you increasingly, deeply feast, enjoy, and digest at Papa's table the most vital ingredient -- His abundant, intimate steadfast love as He longs to "… satisfy your soul in scorched and dry places, and give strength to your bones, and you will be like a watered garden, like a spring whose waters do not fail." (Is. 58:11), and "… know the love of Christ that surpasses knowledge, that you may be filled with all the fullness of God." (Eph. 3:19). One more thing.... As this moves me to ponder both the manifested and potential beauty in brokenness, I think of the perfect beauty of our Lord, wholly within Himself, and then think of Him choosing to be broken -- that He, perfectly beautiful, chose ugly brokenness -- and I wonder about that making Him more beautiful, as if it were possible that He could be more beautiful than He was before.... and that makes me wonder about us. With gratitude, heartfelt, and blessings, Arthur.

Broken People

By : Andrea Archer

On

June 28th 2019

Golden Corral has a similar atmosphere. They are incredibly sensitive to people with physical disabilities. The wait staff go out of their way to respond to those who walk with difficulty.

Haute Cuisine @ Papa's

By : Katie Mazza

On

June 28th 2019

Thanks Arthur for this one. Growing up in a rural, small town in a low-populated western state, I felt as thought I've been in Papa's many times. There are those who indeed are fighting life and not each other. Well said. I also was pinged by the keen observation you made about it not being a very loving place, but it is a safe place.

Thank you

By : Twila Crawford

On

June 28th 2019

Authenticity at its best; making room for all at the table. Sounds like a place Jesus would hang out in. Ouch, in that I learned something from this blog. Too often my battles become with my neighbor when really it's just life I need to walk out. Thankful for the reminder this morning. Will ponder this today and choose more wisely.

Beautiful indeed

By : Rose Benjamin

On

June 28th 2019

"The staff and the clients are broadly color blind, unlike other places where the unspoken racism is expressed in body language...I go there because of the fact that the people who frequent Papa's have learned that their war is against life, not their neighbor." These portions deeply struck a chord with me. Thank you Arthur for being you, someone who can see beyond the surface. Papa's is indeed beautiful.

The Diner

By : Nancy tucker

On

June 27th 2019

Arthur, I have worked and been apart of that crew of many hash slinging diners in the south! Gratefully, gracefully broken now!!! Yes, somedays we need "Papa's" just not moving in again! What a story, WOW, thanks for sharing!

Thanks!

By : Renée

On

June 27th 2019

I just want to thank you for this. As a servant, this is my heart, to have a place where people can come and be welcomed and refreshed and loved on by the presence of God in His essence, a bit like the woman at the well. For now there is no physical location here in the city, only this mobile "temple" that moves about daily. Thanks for the image and the encouragement to be simply that today, first at the refugee center, then at the parliament. He's no respecter of persons. Don't you just love Him so!

At war with other people...

By : Moonsun

On

June 27th 2019

What a great point. Making ponder on this...... thanks for the insight!!

The price of brokeness

By : Donna Nolen

On

June 27th 2019

This story reminded me of this meme I've seen lately. I understand it only too well. Experience comes with a price and sometimes the people who understand it most are the ones who have it together the least. ((((((hugs)))))) https://images.app.goo.gl/YcnK2DneqRuvCqMY8

Tired souls ducking out of the war zone

By : Nancy Bentz

On

June 27th 2019

"Some days, I just need Papa's."
I so identified with this post. Thank you, Arthur.

Fixing people who are broken

By : Kelly

On

June 27th 2019

I watched you on Ekklesia Rising and saw your brilliance especially in healing and wondered today while reading your story how you go about living a normal life without trying to "fix" everyone.

Love it

By : Sandra Beck

On

June 27th 2019

Arthur, I love your insightful, uniquely brilliant perspective. Thank you for sharing your gifts with us!!