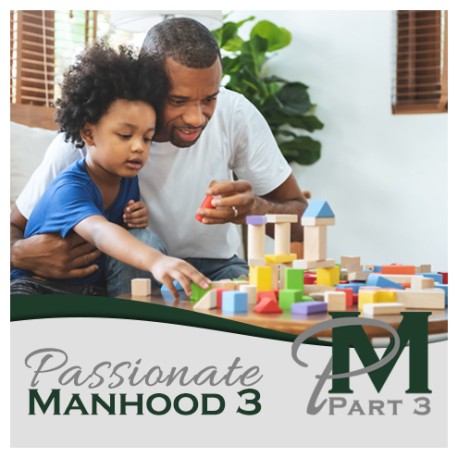  
Passionate Manhood Part 3 Seminar
Building something is the trademark of an adult.  This seminar is designed to teach you how to build and how to teach others who missed this lesson, how to build.

Please see the "More Info" section for logistics and seminar details.
More info
Seminar Description
Ironically, the first two albums about Passionate Manhood were designed for women, not men.  They give mothers and wives the tools needed to intercede for the men they love, who are passive about their spiritual walk.

Those two albums are overtly warfare/healing messages to help the men who are under water.

But passion requires a focus, a cause, a reason to become and to do.  As men heal, they need to learn how to build, and what to build, to express the imprint of God on their lives.

This seminar will explore how to build a number of different areas in our lives.  The premise is that you can be well loved, without being well taught.  You can be loved, like Joseph was, by Jacob, and that love can inadvertently render you useless, by not teaching you how to build.

Building is a skill.  It is best learned in childhood, but can be acquired any time.

From building a marriage, to building a community, to building a career, to building a legacy, there are 100,000s of building challenges and opportunities in life.  An adult is known by what he builds, how he builds and who he builds for.

Most people are building someone else's dream, and therefore they have minimal passion.

Others have huge passion, but don't know how to build from where they are to where they want to be.

This event is designed to give you a road map to growing into the next level of being a builder.

No matter where you are, from needing remedial building, to being a well-seasoned builder, you will learn how to get to the next level in your building skills.

Building is gender neutral.  Every person needs to build in the spiritual realm, the social realm, the economic realm and usually other realms as well.

Come get tools that will be applicable to every facet of your life, for the rest of your life. 


* * *
Some logistics:
We will break for lunch, scatter and go off-site to the community.
All children are welcome at no charge; please let us know they are coming so we can reserve them a seat. There is no child care but I am not disturbed by children playing quietly around the periphery of the event.
The venue is set up with tables with two seats per table. You can take notes or just soak in the process, however you see fit.
We do plan on recording the event, and assuming all goes well, will be releasing the album sometime later.  You will not be permitted to record on your phones during the event.
If the event is about to sell out, we will post it on MeWe when we get down to the last 30 seats or so.  If we do not sell out, we will close registration 1:00 p.m. Eastern time, August 10th.  No walk-up registrations will be allowed.



Seminar Details:
Date
Saturday, August 12, 2023
9:00 a.m. to 5:00 p.m.


Location
The LeGrand Center
1800 E. Marion St.
Shelby, NC 28152


Cost
$100 for adults, children are free and welcomed.  Please register children on the payment page during checkout.

Additional adults: Please also include full names and emails of additional adults included in a single order in the payment page message box.


Registration Cutoff
1:00 p.m. Eastern time, August 10th
No walk-up registrations will be allowed.