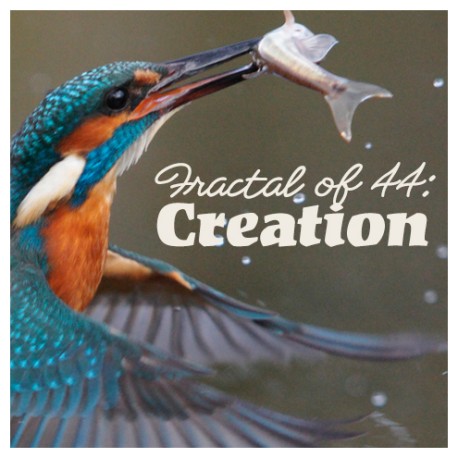  
1. Fractal of 44: Creation Seminar
The fractal of 44 deals with mankind's relationship with creation. It was marred at The Fall and will be restored in the Millennium. Meanwhile there is much we can do to move toward the goal.

Please see the "More Info" section for logistics and seminar details.
More info
We assume Adam was pretty happy with his creation body. He certainly liked it better than the fallen body.

And there is no indication of any problems in his relationship with God, who came regularly to coach him on life in the Garden.

What is significant, though, is the amount of time God spent teaching Adam about ALL the birds, bugs and animals. God either did a suspension of time, or they spent decades systematically understanding creation.

I assume that in the process of learning about the birds, bugs and animals, that Adam also learned a fair amount about land, water, vegetation and weather.

Adam ended up knowing more about creation than any human being since then, before he was allowed to marry and have human community.

This was a massively intentional sequence on God's part.

Today, most Christian's #1 priority is to reconcile with God, secondly with themselves, and third with community in a broad sense.

Reconciling with creation is not even a conversation most of the time.

Part of that is because we feel powerless. How can we even control our little piece of land if the neighbor next door is spraying Roundup on a windy day, and the factory upwind is pumping out toxic fumes?

Or, if you are an apartment dweller with no land and no pets, and your only exposure to creation is the occasional ant, what relevance does the topic have to you?

The answer is twofold.

First, there are spiritual dynamics in creation that need to be brought into alignment by you, in your own space, for you to thrive spiritually, socially and physically.

Second, we are designed to have an impact hugely disproportionate to our size, exercising spiritual authority over creation in a way that benefits an entire region.

These are the themes we will be discussing during the seminar in Montgomery, Alabama on November 4th.



Some logistics:
We will break for lunch, scatter and go off-site to the community to eat.  There are eateries within walking distance.  You may not bring your food into the venue.
All children are welcome at no charge; please let us know they are coming so we can reserve them a seat.  There is a message box on the check-out page, where you can leave their names.  There is no childcare but I am not disturbed by children playing quietly around the periphery of the venue.
The venue will be set up with round tables, meaning there is a lot of room for note taking.  You may take notes if you wish, including using a tablet or other silent device, but NOT on a laptop, since the keyboard noise is quite distracting to those who are having a deep encounter with God.

We do plan on recording the event, and assuming all goes well, will be releasing the album within ten days.
You will not be permitted to record on your own devices during the event.
If the event is about to sell out, we will post it on MeWe.
We will close registration at 1:00 p.m. Eastern time, November 1st.  No walk-up registrations will be allowed.
Please do not take pictures at or of the event, other than with the knowledge and permission of the person in the picture – as in a selfie with a friend, which IS permitted – but not a picture of the gathering.


Seminar Details:
Date and Time
Saturday, November 4, 2023
9:00 a.m. to 5:00 p.m.


Location:
RSA Activity Center
201 Dexter Ave.
Montgomery, AL 36104

Cost:
$100 per adult

Children 18 or under are free.  Please register children on the payment page during checkout.
Additional adults: Please also include full names and emails of additional adults included in a single order in the payment page message box.

Registration Cutoff:
1:00 p.m. Eastern time, November 1st
No walk-up registrations will be allowed.


Gathering Details:
Gordon is hosting two events.
Date
November 3, 2023 | Friday Night Pre-event Gathering - 6 - 9 pm
November 5, 2023 | Sunday Debrief Gathering - 11 am - 2 pm
Location
RSA Activity Center
201 Dexter Ave
Montgomery, AL 36104
There is no charge.  Please do drop a line to Gordon so he knows how many to expect.  ghaggerrty@gmail.com
He is forming a number of teams, so let him know if you want to volunteer for some facet of the event.
People do not have to come to the Saturday seminar to participate in Friday night or Sunday morning gatherings.  It is a great time to bring a friend to introduce them to our wild and wacky Tribe.